The ULBC Trust - supporting UL rowing
ULBC Trust Ltd – a UK registered charity no. 1174721
ULBC Trust Inc – a US non profit corporation with tax exempt status
The objects of the ULBC Trust and its sister trust in the USA are to support ULBC and rowing in the University.
Nowadays they provide the bulk of the funding for UL This includes all the boats and equipment, subsidies for camps, kit, and most importantly professional coaching salaries and costs. The Trust also manages the Boathouse for the benefit of ULBC and the colleges through UL Boathouse Ltd. All major maintenance and development of the Boathouse is
carried out by the University. The University also funds a safety officer and a special coach to operate a diversity development programme.
ULBC Trust Limited is a company limited by guarantee. Its guarantors are its Patrons who are people who have made a significant commitment to ULBC either financially or by special services. The Trustee Directors are elected by the Patrons.
The officers of the UK Trust are:
President: David Townsend
Trustees: Humphry Hatton(chairman), John Kinnear, Gordon Elliott, Nathaniel Reilly O'Donnell, Jess Eddie.
Secretary: Giles Monnickendam
President ULBC Trust Inc: Gordon Elliott
The Trust is run by a committee comprising:
The Officers, The Chief Coach of ULBC, Martin Peel, Lottie Bruce
The full voting members of the Trust (called Patrons) are individuals who have made a significant contribution to UL Rowing, financially or otherwise. Together the Patrons contribute 65% of the Trust's income.
Patrons 1 JUNE 2023
Andy Bayles , Junayd Bell , Paul Bennett , Peter Blaseby , Richard Boomer , Peter Brett , Rob Bristow , Tom Broadway , James Brodie ,
Charlie Brook-Partridge , Lottie Bruce , Richard Budgett , John Burch , Iain Burnett , Tom Cadoux-Hudson , Bruce Carter , Adrian Cassidy ,
Siobhan Cassidy , Andy Ciecierski , Richard Clarke , Robert Clegg , James Cook , David Cooper , George Cox , Zoe Davies , Gordon Elliott ,
Clint Evans , Stewart Farquharson , Graham Faultless , Mostyn Field , Charles Foinette , Tim Foster MBE , Adrian Friend , Geraint Fuller ,
Richard Fulton , Max Gander , Adrian Genziani , Chris George , Phil Gray , Humphry Hatton , Ruth Hatton , Maurice Hayes ,
Simon Henderson , Glen Hill , Graham Hodgson , Frances Houghton , Alan Houston , Mark Howe , Kathryn Hughes , Steven Hughes ,
Alice Jackson , Simon Jefferies , Curt Kaufmann , David Kingsley , John Kinnear , Timothy Kirk , James Kirwan , Andrew Knee-Robinson ,
Kirk Krappe , Jonathan Lane , David Latham , Bill Latimer , Richard Leifer , Charlie Lewis , Filip Ljubicic , Andy Lobbenberg , Dave Martinelli ,
Andrew Matheson, Giles Monnickendam , Kevin Mullane , Luke Nolan , Phil Norman , Catherine O'Riordan , Pasha Okhotin , Michael Orr ,
Jeremy Page , Matt Parish , Zoë Parish , Phil Peacock , Stu Pearce , Matthew Pinckney , Rob Pinckney , Will Porteous , Isobel Powell ,
Nigel Press , Malachi Randell , Louise Reilly-O'Donnell , Nathaniel Reilly-O'Donnell , Simon Rey , James Richards , Claire Rimmer , Damien Rimmer ,
Julian Rodd , Allen Salter , Leonie Salter , Alex Simmons , Joshua Slocombe , Ben Smith , Graham Smith , Trevor Smith , David Sprague , Matt Stallard ,
Matt Stares , Jamie Stearns , Gavin Stoddart , Sophia Supple , Dermod Sweeney , William Thompson , Kirkby Tickell , Alex Torbica , David Townsend , Martin Usherwood , Daniel Walker , David Warbrick-Smith , Stef Wasilewski , Paul Wensley , Damian West , Lee Willett , Russell Williams ,
Ian Wilson , Mike Worley , Pat Wright , Mark Yale , Brian Young
Anyone donating at least £240 per year is invited to become a Patron. The average Patron donates £500 and several give more than £2,000 each year. To become a Patron see below.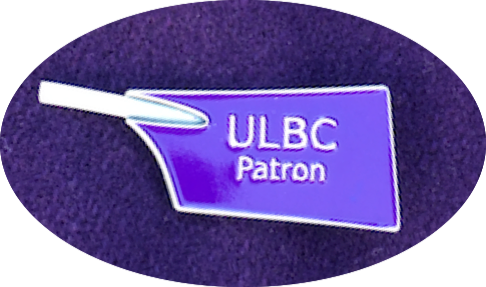 If you can afford it, become a Patron. Our Patrons make regular donations of at least £240 each year but there is no maximum – the average Patron gives £500 and some give much more. let us know if you set up a regular order of £20 per month or more and we will send you a badge.
Bank Transfers or regular Standing orders simplify our administration and incur no bank charges. So please use this method if possible – it is easy to set up if you have electronic or telephone banking, or you can just write a letter to your bank instructing them to make payments.
Account Name: ULBC Trust Limited
Account – 36404802 Sort Code – 60-80-07
Reference – Please add your name as a reference
Cheque: ULBC Trust Limited
Please send all cheques to:
ULBC Trust Ltd,
University of London Boat House
81 Hartington Road, Chiswick, W4 3TU
Gift Aid: If you pay UK tax, please click here
Other Currencies
US$ Set up Zelle payments to ULBC Trust Incorporated at U.S. Bank routing number 042000013; account number 130128026619; email <<ULBCTrustInc@gmail.com>>.
C$ Tax free Visit <<https://www.alumni.london.ac.uk/donate>>, Enter in comments box "Please send to me a receipt for Canadian Tax purposes, and, direct this donation to the University of London Boat Club". Please also email details to adminulbh@gmail.com so we can reconcile.
Other Currencies – Wise account "ULBC Trust Limited"
A$ BSB: 802-985 Account 815227190
€uros IBAN: BE22 9672 3028 6147 BIC: TRWIBEB1XXX
Please also email details to adminulbh@gmail.com so we can reconcile. Ask us for other currencies.

Ways to stay in touch with ULBC